The Italian Chapel consists of two Nissen huts transformed into a beautiful chapel by Domenico Chiocchetti and his colleagues, Italian prisoners of war captured in North Africa and transported to the Island of Lamb Holm in Orkney.
In October 1939 a German submarine under the command of Gunther Prien entered Scapa Flow and sank the British battleship 'HMS Royal Oak' with the loss of 834 lives. Winston Churchill, at that time First Sea Lord, visited Orkney and the decision was taken to construct barriers to close off four of the entrances to Scapa Flow to make the base for the home fleet more secure.
A shortage of manpower to construct the barriers coincided with the capture of thousands of Italian soldiers fighting in North Africa, so a decision was taken to transport 550 men to Camp 60 on Lamb Holm and a similar number to Camp 34 in Burray.
Following a request from the camp priest, Fr Giacobazzi, it was agreed that two Nissen huts would be joined together to provide a chapel. Among the Italians in Camp 60 was an artist, Domenico Chiocchetti, and he was given the task of transforming the two Nissen huts into a chapel. He was assisted by other tradesmen - in particular Giuseppe Palumbi, a blacksmith, and Domenico Buttapasta, a cement worker.
Domenico Chiocchetti carried in his pocket a small prayer card given to him by his mother before he left his home in Italy, and it was the image on that card of the Madonna and Child by Nicolo Barabino that Chiocchetti based his painting above the altar in the Chapel. When the Camp Commander, Major Buckland, realised that the prisoner was a very talented artist he was allowed to continue painting to make the building more attractive.
Now, decades after the completion of the Chapel, it is one of Orkney's most loved attractions.
There is also strong friendship with the town of Moena in Italy, the home of Chiocchetti, and Orkney, and members of the family visit the islands from time to time. Chiocchetti's daughter, Letizia, is an Honorary President of the Preservation Committee. Antonella Papa, a restoration artist from Rome, who had previously done work in the Sistine Chapel, has also spent time working in the Chapel to refresh areas of Chiocchetti's painting.
In August 2014 three of the Station of the Cross were stolen. Replacement plaques were carved in Moena are in place in the Chapel, but this has resulted in the installation of CCTV cameras which, it is hoped, will deter any further damage to the Chapel.
The Preservation Committee do hope visitors will enjoy their time in the Chapel. A small booklet is available in English, Italian and German which, for a donation of £1.00, tells the story in words and pictures and gives a full explanation of the Chapel and its construction. Find out more about accessibility at the Italian Chapel.
Other Details
Opening hours:
November - March open 10.00 - 13.00 everyday except Christmas Day and New Year's Day
April and October open 10.00 - 16.00 everyday
May and September open 09.00 - 17.00 everyday
June, July and August open 09.00 - 17:30 everyday
Admission is £3.50 per person, with free entry to those 12 and under. Advanced booking essential for larger groups.
Awards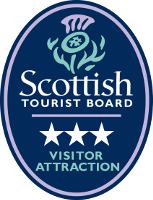 Reviews