"This is a milestone moment in what has been a very long process for everyone involved in bringing Amy's remarkable story to the big screen," say two of The Outrun's producers, Sarah Brocklehurst and Dominic Norris.
"The support of the Orkney community has been fundamental in helping us reach this point and we're enormously grateful to everyone in the islands for their help."
The commencement of the Orkney element of filming for the adaptation of local writer Amy Liptrot's award-winning book has particular significance for Brocklehurst. It was her company, Brock Media, which first optioned the screen rights to Amy's moving account of addiction and redemption over three years ago.
Since then, a huge amount of effort has gone into adapting the book for the cinema, with producers Arcade Pictures – the production company led by Saoirse Ronan, Jack Lowden and Dominic Norris – coming on board, and acclaimed German director, Nora Fingscheidt, working alongside Amy to develop the film's script.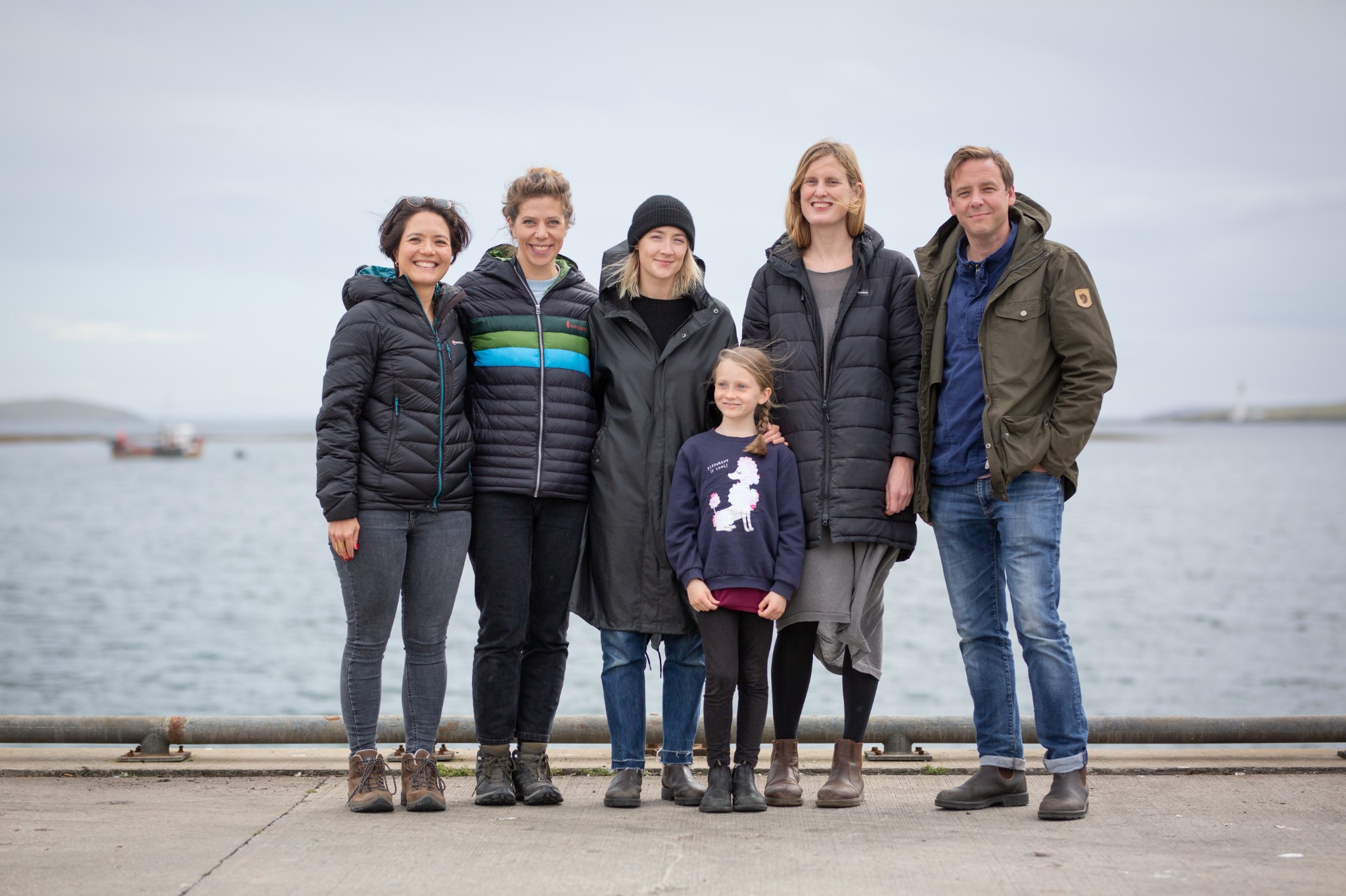 Pictured from left to right: Sarah Brocklehurst (producer); Nora Fingscheidt (director/screenwriter); Saoirse Ronan (cast/producer); Freya Evans (cast); Amy Liptrot (author/screenwriter); Dominic Norris (producer).
Arcade Pictures producer Norris says: "We are thrilled to finally be filming here, after many months of preparation and extensive recces of Mainland and Papa Westray (Papay), getting to know the people and places from Amy's book. To be able to tap into the local community across many aspects of production over this extended period of time is something we're incredibly thankful for, as well as excited to see it translate to the big screen in the finished film. Suffice to say, all of us have been captivated by Orkney's stunning landscape and the warmth of everyone we've met, but we've also been hugely impressed by the can-do attitude of the community in helping us on the production side."
Multi Academy Award nominated Irish American actress, Saoirse Ronan, is playing the lead character of Rona in the film, which also stars British acting talent, Stephen Dillane and Paapa Essiedu.
Orkney audiences can expect to see some local faces on screen too, including nine-year-old Freya Evans from Kirkwall, who plays young Rona.
Brocklehurst continues: "Having actors of the calibre of Saoirse, Stephen and Paapa involved is, of course, wonderful, but Nora was very keen we also include local talent, lending an additional degree of authenticity to the production. We want everyone in Orkney to feel a sense of ownership over this story as so much of it is being filmed within their communities. We held several local castings earlier in the year for supporting actors and were really delighted with the response. Freya was particularly impressive for someone so young, and we can't wait to see her in action."
Although precise details of the production are being kept under wraps, filming is taking place in Orkney's Mainland and the island of Papay. A pre-shoot during lambing season in April also secured footage for the feature film.
Both producers conclude by saying: "From the outset, we've wanted to work closely with the Orkney community and approach the adaptation as sensitively as possible, realising that a film production on this scale has the potential for causing some disruption to day-to-day life in the islands. This is a particular consideration in a place the size of Papay.
"However, we've been genuinely touched by the desire in Orkney to make this production a success. Without that support and understanding it simply wouldn't be possible to make a film of this nature, so thank you to Orkney!"