On the night of 17th March 1969 The Longhope lifeboat, TGB, answered a call for help from MV Irene, in difficulty off South Ronaldsay, Orkney.
A south-easterly gale had been blowing for weeks and, on her way to the casualty, TGB was swamped by a huge wave, with the loss of the entire crew of eight men.
TGB had launched, in traditional RNLI fashion, down the slipway from the shed in the tiny community of Brims, a straggle of houses, along a single-track road on the Orkney island of Hoy. The peninsular of Brims Ness sticks down into the Pentland Firth, one of the most dangerous stretches of water in the world. The lifeboat crew lived at Brims and not a single house was unaffected by the tragedy. Fathers, sons, brothers, husbands, friends and neighbours were lost. Not only that, but half of the community's workforce was gone.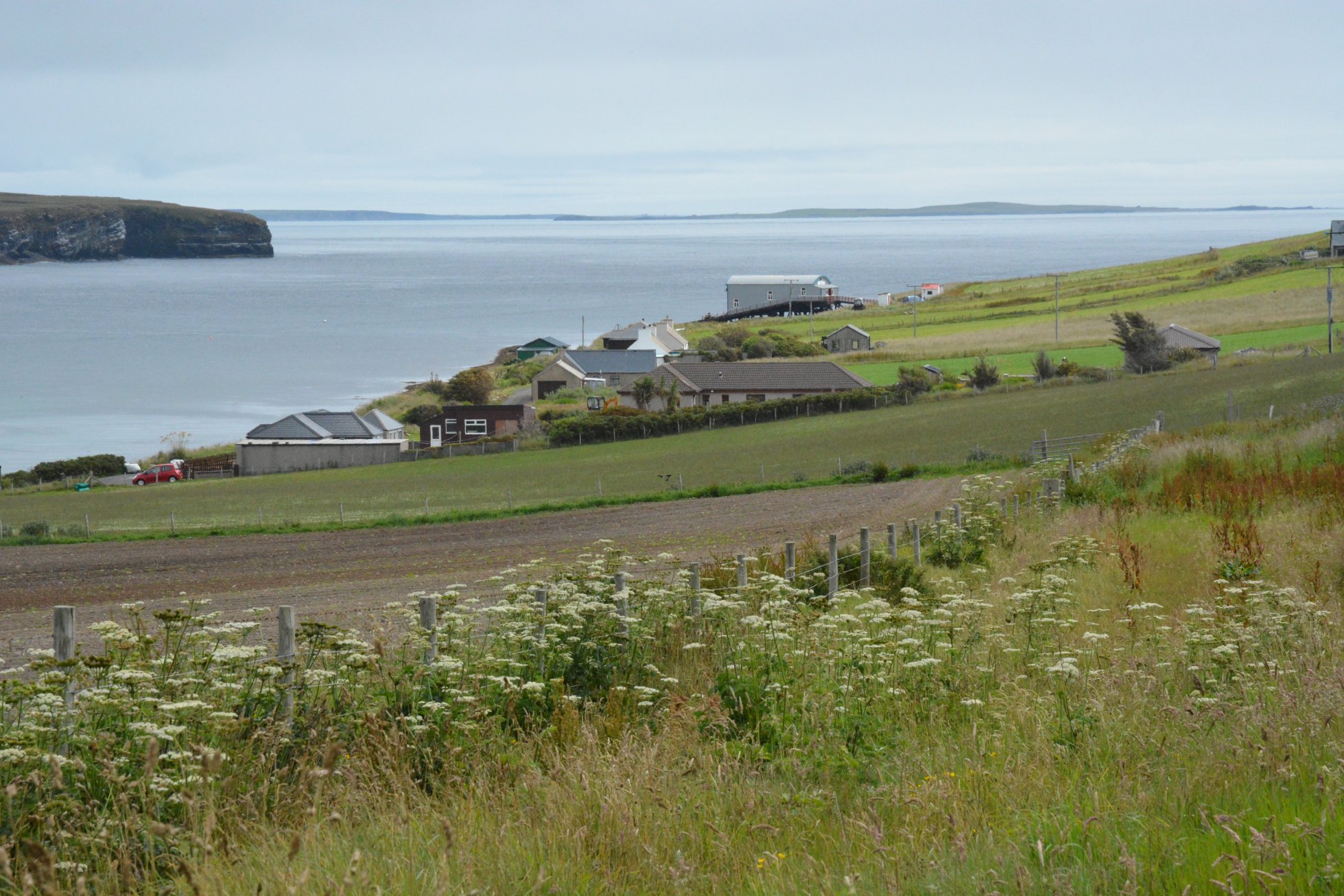 The small community of Brims with the former Longhope Lifeboat shed, now the Longhope Lifeboat Museum, in the background
Eric McFadyen had gone down to the shed to see what was happening – after the maroons went up. Dan Kirkpatrick, the coxswain, asked him to go along. Eric climbed up the side of the boat and a life jacket was thrown up to him. Lifeboat people do not consider themselves heroes, they don't think, or speak, in those terms. Rather, they feel privileged to be in a position to do what they believe most people would do if they could.
Kevin Kirkpatrick – today's coxswain – lost his father (Jack), uncle (Ray) and grandfather (Dan). Kevin was not quite three years old. Kevin's wife, Karen (neé Johnston), also lost her father (Robbie), uncle (Jimmy) and grandfather (Bob). Karen had just turned two. Eric McFadyen left his mother, Chrissie, and brother Ian. Jimmy Swanson left brothers and sisters and his wife Jean. Jimmy's sister, Margaret, is 92 and remembers her big brother with deep affection.
In the immediate aftermath of the tragedy there was no ready-formed crew to carry on. They only ever had a regular crew and a handful of others who would step in if needed. There was never any suggestion that the station would close however. Within a week, even before the funerals, men had come forward to be trained. The Hilton Briggs was stationed at Longhope and Jack Leslie from Stromness appointed as coxswain. Her first call was in June 1970. A permanent replacement – David and Elizabeth King & EB, with Jack Leslie as coxswain, was on station by December.
Stewart Taylor, now serving as Lifeboat Operations Manager at Stromness nearby, was just 20, and shore crew for TGB in 1969, he had worked with Dan only that morning. Stewart joined the new crew. "There is no way of expressing it." He said, "We didn't replace Dan, and the others, they were irreplaceable, we just took over the roles. This was the lifeboat after all, we just had to get on with it."
In 2018 I paid a visit to the old shed at Brims – now a lovely museum. Another old Longhope lifeboat, the Watson class, Thomas McCunn, is housed there. She can still shoot down the slipway, on special occasions, as she will in March to remember TGB. One corner of the museum is given over to the TGB, it contains black and white photographs, a few recovered objects and faded telegrams from The Queen and Queen Mother – telling of their deep sorrow. In advance of the anniversary an appeal for funds to restore the museum raised a very generous £50,000 from the people of Orkney and supporters around the world.
The museum was attended that day by a slightly built young woman in a blue boiler suit. She had a rag in one hand and a tin of brass polish in the other. She introduced herself as Stella Kirkpatrick. "Yes," she said, "Dan was my great grandfather, Jack and Robbie were my grandfathers. My dad has been coxswain since 2002." Stella joined the crew a few weeks later, when she turned 17, and has already been on a couple of shouts.
On March 17th there will be a commemoration in Brims for the crew of the TGB. Their names will be read out. There will be hymns, prayers and specially written music. Lifeboats and crews will gather from around Orkney and Caithness. The men of TGB will be remembered, as they are every day round here, and we will marvel at how the RNLI continues to find such remarkable men and women who will go to those in peril on the sea.
The crew of the TGB
James (Jimmy) Johnston (34) – Second Coxswain.
Robert (Bob) Johnston (62) – Mechanic.
Robert (Robbie) Johnston (31) – Crewman.
Daniel (Dan) Kirkpatrick BEM (59) – Coxswain.
John (Jack) Kirkpatrick (26) – Crewman.
Raymond (Ray) Kirkpatrick (28) – Bowman.
Eric McFadyen (24) – Crewman.
James (Jimmy) Swanson (61) – Assistant Mechanic.
---
Find out more about the Longhope Lifeboat Museum online and on Facebook. You can also follow the RNLI Longhope Lifeboat on Facebook.
The Digital Orkney project has been part financed by the Scottish Government and the European Community Orkney LEADER 2014-2020