For a small island on the periphery of the Orkney archipelago, North Ronaldsay has certainly been hitting the headlines over recent weeks.
It's no ordinary festival, though. North Ronaldsay is home to an ancient breed of seaweed-eating sheep that live on the island's shoreline. The mutton is a prized delicacy and is exported far and wide. Wool from the sheep is also processed locally and sold.
The sheep are kept on the shore by a stone dyke that encircles the island. It was originally built in the 1800s and, as you can imagine, it suffers during the winter storms that pass through. For a small population this creates a serious challenge, and the dyke has to be maintained to help preserve the rare breed.
That's where the festival comes in. First held in 2016, it aims to raise awareness of the sheep and preserve the sheep dyke, with volunteers travelling to North Ronaldsay to help rebuild the wall. In return, participants from around the world are offered the chance to learn skills, meet new people and experience life in this special community.
'I first heard about the festival after searching for North Ronaldsay on Google several years ago,' said Brian Saunders, who travelled from Vancouver, Canada to the event in 2017. 'I convinced my friend Damon to join me, and we discovered that as festivals go, heaving rubble and shaping it into a wall is infinitely more fun than sliding through the mud at Glastonbury!'
Brian was one of the volunteers helping repair fallen sections of the wall. He was joined by people from all walks of life who had made their way to North Ronaldsay for a variety of reasons, including some researching their family history, knitters keen to see the famous sheep and even a young French visitor who travelled to the island to meet new people and practice English.
'We met people of all ages and backgrounds that all had interesting stories about what led them to be lifting stones in this northern island,' said Brian. 'But everyone, regardless of their background, shared the same satisfaction when looking at a hundred yards of newly-built sheep dyke'.
The hard work at the festival is rewarded by a packed schedule of tours, talks and other events. The North Ronaldsay hall hosts ceilidhs for the new islanders and participants can soak up the peace and quiet of this special place too. As Brian discovered, it's far more than simply an activity-style holiday.
'The time I spent in North Ronaldsay far surpassed my expectations. By the time I got home I knew that I wanted to return,' he said.
And return he did, in some style. His visit in 2018 culminated in Brian and his partner Krisztina getting married on the Orkney mainland, before flying to North Ronaldsay for one of the island's famous celebrations. 'It was an unforgettable night,' said Brian. 'So many of the people I met the previous year gave huge amounts of their time, energy and resources and made it an incredible experience.'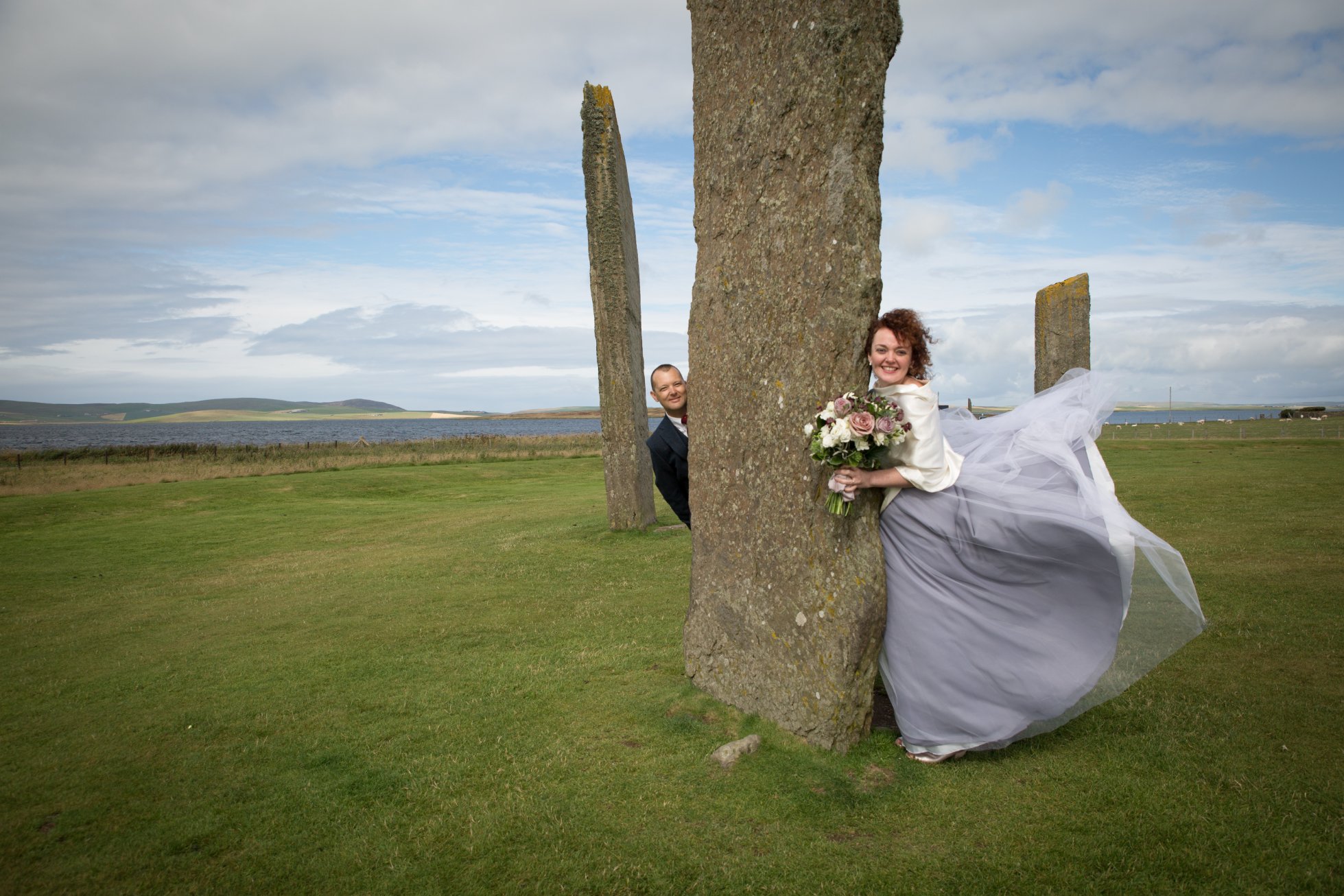 Brian and his wife Krisztina after their marriage ceremony at the Standing Stones of Stenness in Orkney
The North Ronaldsay Sheep Festival offers something different. You get to visit a special place and work with a community that welcomes visitors with open arms. You also get to go home with a sense of achievement, knowing that you have contributed something tangible to a place like no other.
We'll leave the final word to Brian. 'I would recommend the festival to anyone; no matter what your age, skill and personality might be, you can help rebuild this historic structure. Just as importantly, you can meet some amazing people in an island with a beautiful landscape and history.'
---
The 2019 North Ronaldsay Sheep Festival will be held between July 29th and August 9th. Find out more via the official website.
The Digital Orkney project has been part financed by the Scottish Government and the European Community Orkney LEADER 2014-2020