The Barn, once an old farm building, was completely renovated and opened as a hostel in May 2000.
COVID-19 update: The Barn is open for group or family bookings. There are several hand sanitiser stations at Chalmersquoy. We are trying to leave gaps between bookings when possible and have increased cleaning measures in place including cleaning all touch points.
Although a warm modern building, it contains loads of character and many who come say it is "better than a hostel - more like a hotel".
The excellent kitchen facilities turns cooking on holiday into an enjoyable experience. You can choose to eat in or you might want to eat at the local hotel just along the road.
The Barn is popular with groups and families sharing a holiday. A special daily rate for exclusive bookings is available.
One of the most favourite features of The Barn is the spacious lounge area. It is situated on the upper floor and overlooks Pierowall Bay. In fact every room in The Barn has a superb sea view.
Facilities
Ensuite bath and/or shower, some rooms
Private bath and/or shower, some rooms
Washbasin in bedrooms
Hairdryer available
Bed linen provided on request - free or hire
Towels provided on request - free or hire
Television available
Broadband
WiFi
Resident's lounge
TV lounge
Laundry service on site
Private parking
Ground floor bedrooms available
Drying facilities
Family room(s) available
Twin/double room(s) available
Assistance dogs welcome
Awards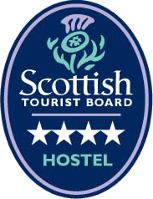 Reviews