The Scapa Brand Home team will be ready to welcome you back to our shop on the 26th July.
Safety is our number one priority and we are working hard to implement social distancing, and hygiene measures to ensure staff and visitors use the spaces safely. Including:
We will welcome you at the entrance of our shop to take your temperature and your contact details prior to entry.
Please bring your face mask to wear whilst inside and adhere to physical distancing in the shop. Maximum 3 single visitors or 2 couples or a party of 4 allowed in the shop at any time.
Shop open 1-5pm Monday to Friday. We have booking slots for private shopping or tastings 11am-12pm daily which must be booked and paid for 24 hours in advance.
Please email scapa.admin@pernod-ricard.com to make a booking
A Distillery Visitor Centre offering guided tours of the distillery and traditional warehouse. A complimentary tasting at the end of your tour. 'Tasting only' options are also available.
Visit our beautiful distillery looking over Scapa Flow. Enjoy a guided tour of the distillery and traditional warehouse followed by a complimentary tasting of our Scapa single malt whiskies. We have a gift shop where you can purchase our finest whiskies and whisky related items.
All our tours are available to book through our website at www.scapawhisky.com
Awards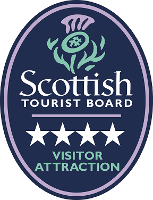 Reviews