Orkney's Neolithic and Viking heritage is well documented, but this special site showcases a more recent part of island history.
To protect staff and visitors, Kirbuster Farm Museum is closed to the public until further notice as part of efforts to help prevent infection by the coronavirus. We look forward to welcoming you at a future date.
Kirbuster Farm Museum in Birsay provides a fascinating glimpse into life on a traditional Orkney farm during the 19th and early 20th centuries.
The farmhouse was occupied until the 1960s before being reopened as the musum in 1986. It's the last un-restored example of a traditional 'firehoose' in Northern Europe, with the house built around a central hearth and peat fire. There is also a stone neuk bed and a peat fire, with the rooms full of old household implements and furniture.
The main farmhouse is surrounded by beautiful stone buildings full of farming equipment and memorabilia. There is also an example of an Edwardian parlour and Victorian gardens. Visitors can even enjoy a game of putting on the green and explore the Trowie Trail in the back garden.
Kirbuster is a unique survivor which gives a fascinating insight into four centuries of family life in Orkney. It's also an excellent place to visit if you are researching your Orkney ancestry. It's simply a site that should make it onto the 'must see' list for any visitor to Orkney!
The Kirbuster Museum is run by Orkney Islands Council and entry is free.
Opening hours
From 1 March:
Wed – Sat, 10.30-13.00, 14.00-17.00
Sun, 12.00 – 17.00
Awards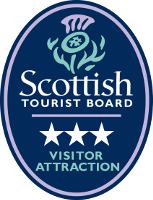 Reviews