Kirbuster Museum was opened to the public in 1986. It is the last un-restored example of a traditional 'firehoose' in Northern Europe.
The house has a central hearth, complete with peat fire, and a stone neuk bed reminiscent of the Neolithic interiors that can be seen at sites such as Skara Brae, and demonstrates how little some aspects of domestic life changed in Orkney over many centuries. Kirbuster was occupied up until the 1960s and was once the home of the Spence and Hay families.
The house also has an Edwardian parlour and Victorian Gardens. The implement shed contains a collection of farming memorabilia and visitors can enjoy a game of putting on the green and explore the Trowie Trail in the back garden.
Kirbuster is a unique survivor which gives a fascinating insight into four centuries of family life in Orkney. An excellent place to visit if you are researching your Orkney ancestry.
FREE ADMISSION
Other Details
Monday - Saturday: 10:30 - 13:00 and 14:00 - 17:00
Sunday: 12:00 - 17:00
Museum is closed for lunch 13:00 - 14:00
Awards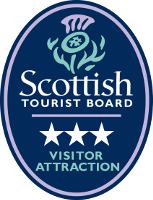 Reviews