Corrigall Farm Museum is a traditional 'but and ben' laid out as a typical Orkney farmhouse and steading in Victorian/late 19th century period, although it was still lived in like this until the last inhabitants left in the mid-20th century.
To protect staff and visitors, Corrigal Farm Museum is closed to the public until further notice as part of efforts to help prevent infection by the coronavirus. We look forward to welcoming you at a future date.
The site has a working barn, a kiln for drying grain for milling and malting, horse-drawn machinery and livestock. Some older visitors may recognise objects or implements from their childhood in and around the museum, but present-day youngsters can see how basic life was pre-electricity. The house is still heated by a peat fire, with its distinctive smelling smoke, and peat cutting implements are on display in the byre.
The museum gives a fascinating insight into a way of life and an agricultural pattern that has all but disappeared from Orkney.
FREE ADMISSION
Other Details
From 1 March: Mon – Thu,
10.30-13.00
14.00-17.00
Awards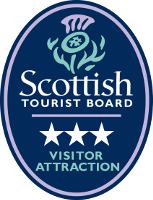 Reviews